_
Cryptocurrencies
These virtual currencies are known for their extreme volatility, but on the flip side also for their high returns. Up for the challenge? Discover the 28 currencies on our platform.

Promising new asset class
Cryptos are a promising new market with rising global liquidity levels

High volatility
Cryptos' high volatility presents both increased risks, but also unprecedented opportunities

Crypto never sleeps
You can trade cryptos around the clock – 24/7
The Swissquote edge
_
• Crypto exchange services: Trade the 28 major cryptocurrencies with low fees and exchange cryptos against fiat currencies.
• The real thing: We don't just provide exposure to crypto via derivatives. You can trade and hold actual crypto assets in your Swissquote wallet.
• Swiss safety: Enjoy the security of a regulated and listed Swiss bank.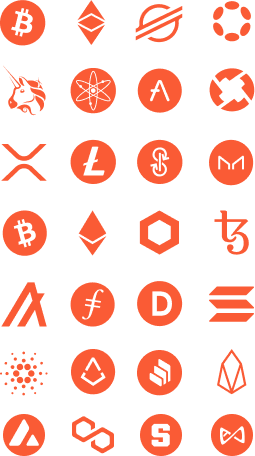 Major cryptocurrencies
Swissquote offers a total of 28 cryptocurrencies and an infinity of opportunities. Learn more about the benefits of each digital currency available on our platform.
To the moon!
_
Cryptos are one of the best performing asset classes over the past few years, and they still post impressive growth spurts regularly.
Enjoy the crypto-ride with Swissquote.
Crypto traders are also interested in …
_
Swiss DOTS
An OTC derivative marketplace with more than 90'000 products and attractive trading conditions